NEWS Update (COVID-19)
This page will be used to update parents about the current situation with regards to the Coronavirus.
September 2021:
School is now fully open and we are following government guidelines to ensure all pupils and adults remain as safe as possible. The 'bubble' system for classes isolating is no longer in use and it will now be just individual pupils and adults who isolate if they have a positive test.
We are still encouraging good hygiene and handwashing along with fresh air and social distancing where possible.
Letter to Critical Workers - January 2021
We have now had our second class having to isolate. Here is a general letter sent out to all parents regarding class lockdowns:
School now open to Reception, Year 1 and Year 6 pupils - plus Key Worker and Vulnerable Children (from 22nd June 2020)
Phased re-opening delayed: Lancashire have directed it's school not to re-open due to the regional COVID-19 data still being high. This recommendation has been given by the Chief Medical Officer for Lancashire and, as a Lancashire school, we must abide by it. Mr Crabtree - 10th June 2020
Work for Summer Term
Teachers have now put work up for the summer term WEEK 8 - please click on the 'Class Home Work' to access it
(you can still find the previous weeks for Summer and also Spring Term's work there too)
Please make sure you keep in touch with school - either by the class email or by ringing school - Stay Safe! from Mr Crabtree
Free School Meal VOUCHERS
The government are issuing vouchers at £15 per child. This is only for children who are entitled to BENEFITS related Free School Meals and should not be confused with the Universal Free School Meals which makes school dinners available to all children in Reception, Year 1 and Year 2 (Infants).
No vouchers are issued during holidays
Here is a link to a guide that explains the system: https://www.edenred.co.uk/Documents/DfE/DfE_FreeSchoolMeals_ParentCarerFAQs.pdf
Hope that helps - please contact me if there is a problem,
Mr Crabtree
During this time of uncertainty we will try to keep you informed of current advice for pupils. The government has moved the country into the DELAY phase and we will attempt to follow this lead. There will therefore be no whole school assemblies from Monday 16th March. Celebration Assembly will no longer take place on Fridays and we will try and limit the amount of cross-contact opportunities between classes. If you suspect your child may have contracted the Coronavirus and are showing the following symptoms:
A high temperature – you feel hot to touch on your chest or back

A new, continuous cough – this means you've started coughing repeatedly

the NHS advice is:

DO NOT go to a GP Surgery, pharmacy or hospital.

You DO NOT need to contact 111 to tell them you're staying at home.

Testing for coronavirus IS NOT NEEDED if you're staying at home.

LETTERS sent home about Coronavirus
PLEASE DO LET SCHOOL KNOW IF YOU ARE SELF-ISOLATING A CHILD
Remember school staff are not medical experts and the decision to isolate must be made by parents
School remains open and we expect all children not displaying symptoms of illness to be in. We are restricting assemblies to the classrooms and stopping our Celebration Assemblies for the time being.
We will avoid unnecessary gatherings or visits and so sadly our Easter Service at church will not be going ahead. Similarly, visits out of school will be put on hold - except swimming for Year 5 on Wednesdays.
We know that keeping good hygiene standards is important to try to avoid catching and spreading the virus.
NHS Guidelines for keeping clean are: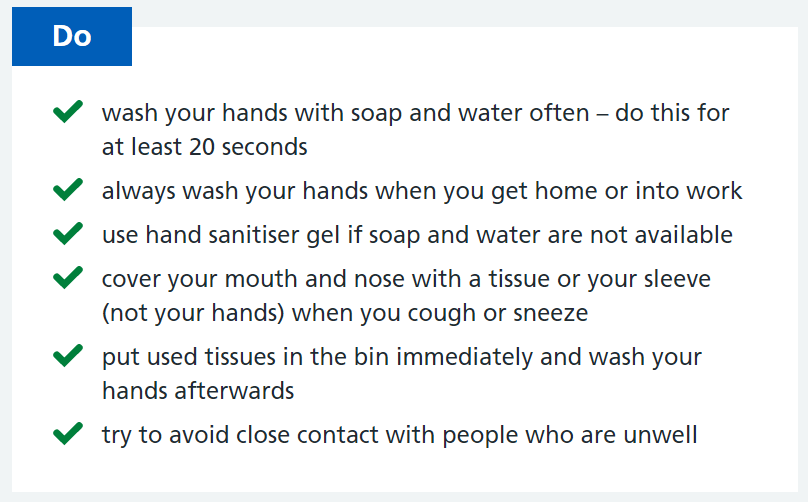 Washing Hands - Why is it important to use soap and wash properly? See this clip:-